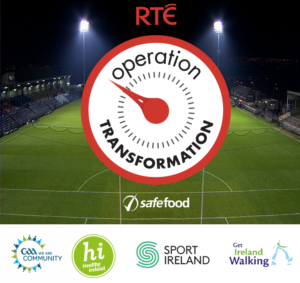 Latton O'Rahilly GAA Lights Up with Operation transformation walks commencing on Tuesday 9th January.
The Walks will commence next Tuesday 9TH January 2018. This is a great way to clear the post Christmas blues. You can walk off that few extra pounds gained from the turkey and the roses ,or use it as a kick start for a new Challenge for you in 2018.
• It is not a timed race of any format .…
• It is Free of Chargre
• There will be a walk of up to 5K on Tuesdays and Thursdays ( Distance completely optional – 1 Lap or 12 it's up to you )
• Each participant can walk /jog/ Run at their own pace
• You Can Walk Alone / With Friends /With Headphones /while chatting to your Friends all while getting some exercise
• It will take place on our training field track as Walking on the Roads is just too Dangerours
• Bring Water with You to keep Hydrated.
We are also hoping to have some people available to do some Warm Up's with us – So all Volunteers please contact Christina on 087-9051969.
We also hope to get as many as possible to do the Park Run each Saturday morning in Cootehill at 9am . This is a timed event but is a brilliantlly run weekly event and you can also use it to improve your times. We hope to have someone from Cootehill Parkrun with us next Thursday to run through what the weekly Run/ Walk is about.
There will be an optional Weigh in on Tuesday next upstairs in meeting Room at 7PM in Centre for those who want to follow the OT Programme Leaders and want to record their process. Weigh in's will then take place weekly before the walks on Tuesdays 7-7.30 and all will be recorded.
We ask as many as possible and all Ages to come out and join us on Tuesday's & Thursday's . This is a new initative and sure you never know we might get on the telly.
The main aim is to get the community Active in January to improve both Physical and Mental Health.
We are attending a full days information seminar in Croke Park this Saturday so hopefully will get some good tips from that. If anyone has any quesrtions or queries plesae contact Chrstina Weldon on 087-905969.
See you all next Tuesday !!!!
By lattonpro
Fri 5th Jan