Sunday 28th May 2017 Visit of Ms Ruth Sweetman to unveil Latton O'Rahilly Centenary Stone 1917-2017
Latton O'Rahilly GAA Club are very proud to host the Grand Daughter of the O'Rahilly next Sunday 28th May at 7.30 to officially unveil our "Centenary Stone" . We are delighted to have Ms Sweetman in attendance as it is a direct link to our Club Patriot "The O'Rahilly" We are proud to be one of the 9 Clubs dedicated to the O'Rahilly .
Ruth Sweetman father was baptised Richard McEllistrim O'Rahilly, and was always known as 'Mac'. Mac married Elgin Barry, a sister of Kevin Barry. Ruth is one of four children, having one brother and two sisters (one of whom is now deceased).. Elgin O'Rahilly is remembered as a woman of strong character.The O'Rahilly had 4 younger siblings: Aodogán, Niall, Maolmuire and Ruairí. Ms Sweetman's grandfather, The O'Rahilly, had lived in America just after his marriage and again a few years later, and the family finally returned to live in Ireland in 1909. On his return to Ireland he was motivated by the wish to ensure a sound education for his sons, and she knows that her father attended five or six schools. At almost 17 years of age he began his studies at UCD. Later he qualified as an accountant and later still as a barrister in the mid-1930s. Ruth describes the character of her grandmother Nancy 'Nannie' as formidable. Nancy had five sons and no daughters, and she had four sisters. Ruth feels that her grandmother had little interest in girls. When Ruth's father died he was the oldest Junior Counsel at the Bar. He loved art, history, literature and theatre and was a very sociable individual. Amongst his many friends were Seán and Kid MacBride. The historical memorabilia of the Barry and the O'Rahilly families is considered. Her mother's papers were left to Ruth's family. Eunan O'Halpin (a second cousin) went through the papers for the family, and they are now at UCD. Her father left very few papers, The O'Rahilly, she says. She praises her Uncle Aodogán's book Winding the Clock: O'Rahilly and the 1916 Rising, and she thinks that he was most like his father in his innovative nature. As a very young man he started his own tile manufacturing company, Weatherwell Ltd, and later he formed Greenore Ferry Services, and he ran these successful businesses for many years. He was also involved in the initiation of Bord na Móna. Ruth feels that the tragedy of her grandfather was that he realised that the Rising could not succeed. His famous remark:"I've helped to wind the clock, I've come to hear it strike" is recalled but Ruth also repeats his words to Countess Markievicz about the 'glorious madness'. Richard 'Mac' O'Rahilly was instrumental in commissioning the Kevin Barry commemorative stained glass window for Earlsfort Terrace in 1932, and it was possibly at this time that Ruth's parents met. The designer of the window was Henry King and the work was carried out by the Harry Clarke Studios. The window is now reinstated in the UCD Belfield campus. Mac and Elgin married in August 1935. Ruth recalls her maternal grandmother's frequent visits and she is remembered as a lovely person who was very interested in her grandchildren, but does not recall the same warmth in her paternal grandmother, Nannie.
Ms Sweetman will complete the unveiling and will say a few words in the GAA Centre . We would welcome all to come along to this very special event.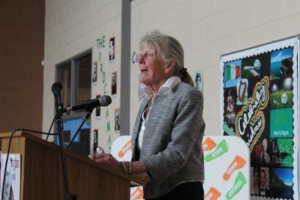 By lattonpro
Tue 23rd May